The J Church returns as a surface-only rail service beginning December 19, 2020.
Service between Balboa Park and Church and Duboce streets
Daily frequency: Every 12 minutes
---
How this affects your travel 👇
The return of rail vehicles will free up buses that can be added to other lines where service has been limited.
Because J Church trains will not be entering the subway tunnel, Muni customers will need to make a new transfer to go downtown or back to Noe Valley in the area near Church and Market street (see map below).  This temporary new transfer is slightly different from the J Church bus substitution route.
The final northbound stop for the J Church rail service will continue to be at the platform just south of Duboce Avenue alongside Safeway. For return travel to Noe Valley, trains will reverse out of the final stop and use the mid-block crossover so that they may resume travel in the southbound lane.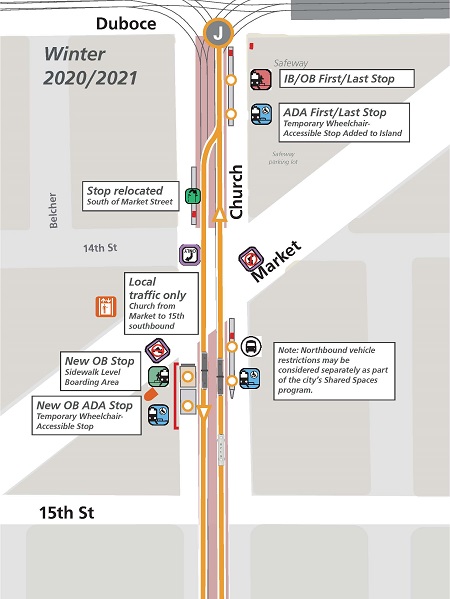 J Church Transfer Points at Market Street
New Temporary Ramps to Ease Transfers
Crews are finalizing the construction of temporary ramps to assist customers with additional mobility needs. One temporary ramp is located on the existing platform by Safeway, and another is located on the 200 block of Church just south of Market Street, serving as an outbound stop and connection for customers once the Muni Metro subway reopens.
In order to ensure efficient connections for passengers on both the 22 Fillmore and the J Church, that share the transit lanes along this route, we are discontinuing use of the southbound platform on Church Street at 14th Street. Instead, both services will utilize the nearby temporary stop being implemented just south of Market Street.
For information about the new J Church terminal in the area of Market Street visit SFMTA.com/JTransferProject
---
You Ride, We Guide.