UPDATE: BART will stop train service at 9pm on Friday, July 15 and start the bus bridge then. If you are coming from San Francisco, the last direct train to Fremont will leave the downtown area at approximately 7pm–other trains leaving downtown up to 7:40pm will require a transfer to another train to get to Fremont. Trains after 7:40pm will stop at South Hayward and you will transfer to the bus bridge.
BART are closing a portion of the parking lot at South Hayward Station all day Friday, July 15, in order to accomodate buses for the free shuttles. Half of the Fee parking lot near Dixon Road and Buckwheat Court will be closed. There will be signs reminding parkers of the closure. 
BART will close the tracks between South Hayward and Fremont stations for the weekend of July 1-4 and July 16-17 for vital repairs and maintenance. Expect delays of 20-40 minutes. The shutdown will begin at 9pm on Friday night (updated) and continue until start of service on Tuesday the 5th and Monday the 18th, respectively.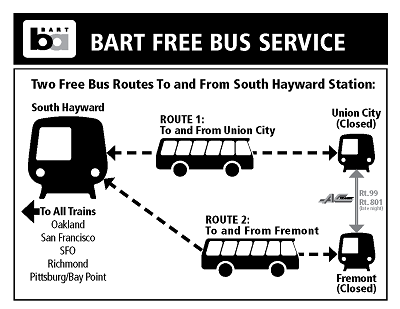 Free shuttle buses will carry customers on two routes: one between South Hayward and Fremont stations and one between South Hayward and Union City stations.
Be aware that the last shuttle buses will leave Fremont Station & Union City Station at approximately 11:30 pm to meet the last train out of South Hayward station.
There is existing (paid) AC Transit bus service (Route 99 and late night Route 801) between Union City and Fremont stations if needed—go to actransit.org for route maps and schedules. See the maps below and on the reverse for the work area and bus service.
The Fremont and Union City Stations will be closed, customers arriving at those stations will be directed to the bus stops to access bus connections.
All buses are accessible and paratransit service is also available if needed.
If you are driving to BART, please avoid South Hayward, Union City, and Fremont stations.
To prepare for the closure each weekend there will be single-tracking between South Hayward and Fremont with delays up to 30 minutes starting at 8:30pm on Friday nights, July 1 and July 15.
This work will help us prepare for the new Fleet of the Future trains that will be based at the Hayward Maintenance Center and also for the opening of the new San Jose Extension.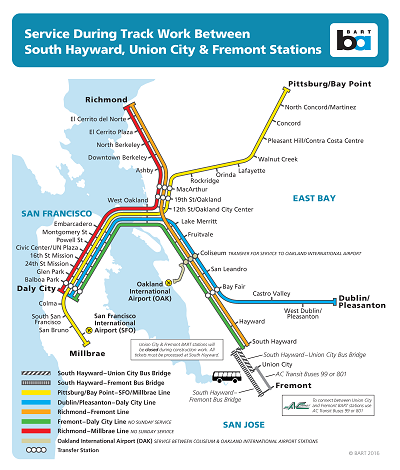 *****